Wester Drug is a family owned and operated pharmacy dedicated to providing high quality, patient-oriented pharmaceutical and durable medical equipment services that improve the quality of life for our patients.
We will strive to continue growth through the use of advancing technologies, exploration of cutting edge services, investment in our pharmacist providers and support technicians, incorporation of new laws allowing for the advancement of practice, and by serving as an educational medium for future pharmacy students. With this as our mission, Wester Drug is constantly aware of and interested in growing our patient and customer base to increase profitability allowing us to continue providing innovative pharmacy services that ultimately improve the health of our patients.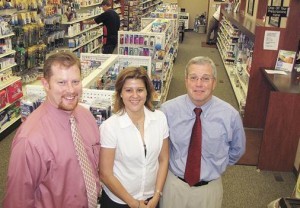 Muscatine
Claude "Doc" Wester opened Wester Drug at 315 E. 2nd Street in Muscatine, IA in February 1945. The business has operated from this location to this day. When Doc opened Wester Drug, there were 14 independent pharmacies in Muscatine. In 2005, Wester Drug became the last remaining independent pharmacy in Muscatine. Wester Drug was incorporated in 1990. Upon Doc's death, his son and daughter-in-law, James and Gail Wester, became sole owners.  On January 1, 2009, Wester Drug, Inc was sold to Cory and Michelle Garvin.  A DME display/demonstration area was opened in the Batterson Building at 319 E. 2nd Street, Suite 102 in Muscatine in January 2010. Cory and Michelle Garvin are sole owners of Wester Drug, Inc and Wester Drug LTC, LLC. Wester Drug is truly a family owned business, not only employing Cory and Michelle but also Cory's mother, father, 2 sisters and niece.
Wilton
A second location at 400 Ovesen Drive, Suite 102 in Wilton, IA was opened in September 2004 in the Unity Physicians Clinic building. There had not been a pharmacy in Wilton since 1993. Wester Drug was and remains the sole pharmacy in Wilton.
Long-Term Care
The third pharmacy, a long-term care pharmacy was started in November 2009 under the name Wester Drug LTC, LLC. For purposes of contract billing, this pharmacy is considered a closed door pharmacy, filling prescriptions for people in a nursing home, assisted living facility, group home, jail or other housing facility.